See the video showing the process described below
See it on YouTube
Zoom allows the host to record the Zoom session. Host may also authorize participants to record session.
If host doesn't enable recording by other participants, a participant can still record the session by using a screen capture program outside of Zoom.

Not all screen capture programs work for this purpose. One that does is the open source freeware program, OBS. It is available in versions for PCs, Macs and Linux machines. Download it from https://obsproject.com/

OBS is a sophisticated program with capabilities that extend far beyond simple screen capture. To set up screen capture, you must launch OBS with Zoom already running or Zoom won't detect your webcam.

Here is the setup in OBS

Launch OBS
At the bottom of the screen, you will see various tabs. Find Sources tab
Click the + symbol under Sources and select Display Capture
Click OK
Click OK a second time
Do not click Enable Preview.
If you inadvertently checked it, you will see many nested screens, one inside another.
Put your cursor on the largest of these nested screens, right click and uncheck Enable Preview
On the right side of the Display Capture, you will see an eyeball and a lock.
The eyeball must be white in order for Display Capture to be active. If it is dark, it is disabled. (Think Photoshop Layers)

Before you begin Screen Capture, choose where the recording will be saved.
Do this by clicking on Settings on the Controls tab (extreme lower right of screen).
Go to Settings/Output/Recording/Recording Path and browse to the desired Save location.

To begin screen capture, click Start Recording on the Controls tab
Click on the Zoom session, minimizing the OBS, minimizing the OBS program if necessary.
To stop recording, return to OBS and on the Controls tab, click Stop Recording

OBS will save the recording at the location that you selected earlier.
Set that location

The image below shows the settings for Zoom within OBS.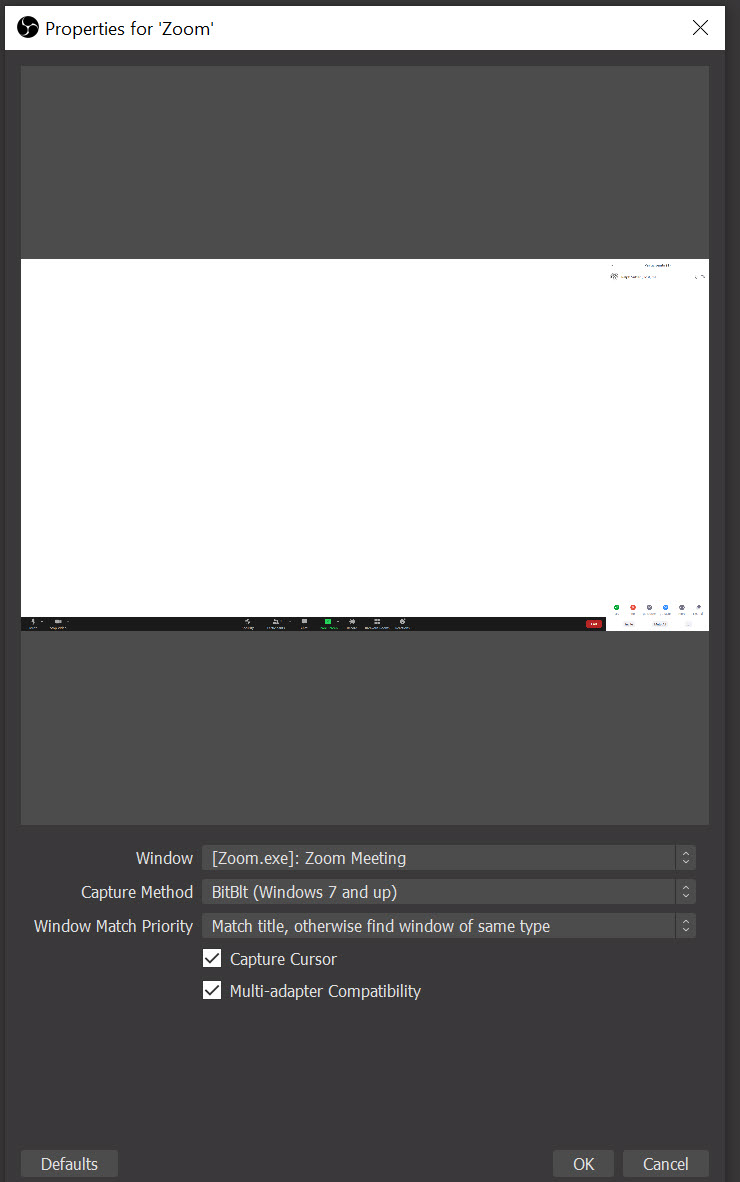 © Copyright 2020 by Ralph Sutter. All Rights Reserved.
Please send your comments regarding this site to ralph@rsutter.com